Aloha Style's mission is to provide a place where anyone who has the desire can learn hula; to be fair and treat everyone with respect; to share the "aloha" that comes from within and to respect the Hawaiian and Tahitian traditions and culture.
Nana ka aka: Observe with the eyes.
ho`olohe ka pepeiao: listen with the ears.
pa`a ka waha: shut the mouth.Thus one learns.
About Hula
An interpretive dance and form of storytelling developed by the Polynesians. Before written word, Hawaiians used chant and hand movements to tell stories about monarchy, gods, people and places. or more information on hula and its history visit.
 What we do
Aloha Style Polynesian Dance on the Mainline teaches authentic Hawaiian hula and Tahitian dance with an emphasis on Hawaiian Hula and Tahitian Dance. Students of all ages are taught the basics in English and Hawaiian. As a student, once you master the basics, you will learn dances, songs, and the culture. Click here to see our Class Schedule.  We also host fun, luau birthday parties for girls. Click here for more information.
Aloha Style frequently performs a variety of events including:
Birthday Parties
Ladies Night Out
Restaurants
Corporate Parties
Luau's
Private Parties
Weddings
Fund Raising Events
School Assemblies
Senior Centers
Our spacious studio is located in quaint Narberth, Pennsylvania—in the heart of Philadelphia's "Main Line".
So, Hel e Mai (Come By and Check Us Out!)
Aloha Style on the Main Line
105 Forrest Ave.Narberth, PA 19072
Call us: 610-667-HULA (4852)
Email us: info@alohastyledance.com
---
About Our Staff
Connie Majka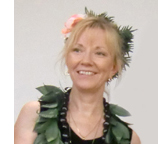 It was 1981 at the Royal Hawaiian Hotel. The Brothers Cazimero were singing and gliding as if on air came hula dancer, Leina'ala Kalama Heine. From that first time, Connie decided she wanted to hula. If she could only be one-quarter as graceful as "'Ala", she would be content. And so, as she started lessons with Makalani Andrada, she developed a love and deep passion for hula. It is this love and passion that breaths life into her teaching at Aloha Style in Narberth, PA.
She has danced for numerous shows in Hawai'i and in the Philadelphia region. As a teacher, she cultivates a respect for the traditions of Hula, a respect for the Hawaiian people as keepers of the traditions, the Hawaiian language, and the "aina" (the land) where Hula originated.
She believes that one never achieves perfection—that the creativity and joy comes from always learning, always striving. She continues to study hula and has taken classes with Kumu Noelani Zuttermeister and Kumu Frank Kawaikapuokalani Hewett.
"'a'a i ka hula, waiho ka hilahila ma ka hale."
Get up and dance, leave shyness at home.
---
Suzanne Aumack
Founder, Aloha Style
Suzanne started dancing hula when she was only 13. Inspired by her teacher, Kumu Hula Terry Johnson, former Dance Masters of America Hula Chairperson, Suzanne found her passion in teaching others the elegant movements of Auana and the vigorous rhythms of Tahitian. In order to reach more people Suzanne founded Aloha Style in 2007. It is the only authentic hula studio in the Philadelphia region.
Suzanne encourages an atmosphere of relaxed learning but always with respect to the Hawaiian and culture. Aloha Style was founded on the principal of "o'hana" (family), and Suzanne invites everyone to experience the beauty of hula and the camaraderie of dancing together.
"E lawe i ke a`o a malama, a e `oi mau ka na`auao"
He who takes his teachings and applies them increases his knowledge.
---
Stephanie Chace
Stephanie has always had hula in her heart. An architect by profession,
Stephanie started Stephanie started taking hula as a way to relieve stress and maintain an active healthy lifestyle. Along the way, she found hula provided an outlet for artistic expression and her passion for the dance and the culture flourished.
Stephanie (Kailani) loves being a member of the Aloha Style family, "Everything I know I learned at Aloha Style, and I didn't quite live until after I started Polynesian Dance. It is my new passion in life." Stephanie's strength as a teacher comes from the mix of her unique talents, architecture, music and hula—and nowhere is it more evident than in her choreography where all those artistic expressions are intertwined.
You can always rely on Stephanie to think out side of the box and give a different perspective, to help explain dance moves in a new way, or to give you the counts to a song. She teaches classes in both Hula and Tahitian. Stephanie is also a member of our Professional Dance Troupe.
---
Kainani Quezada

Aloha Style is pleased to announce Kainani Quezada from California. Kai will teach a beginner hula classes. This foundations class is open to all ages and will include both kahiko and 'auana styles.
Kai came to us by way of St. Joseph's University where she is a graduate student studying cell biology.
Kai brings a family tradition of hula to Aloha Style. She started dancing hula at the age of six for Hula Hālau 'O Kamuela 'Elua in Burbank, California.  In 2007 her mother, Kumu Hula Nani Aiu-Quezada, opened Hālau Hula Moani'a'ala Anuhea in Monterey Park, California and Kainani has been dancing and teaching there since.
Notable performances included: The Makaha Sons of Niʻihau at the Redondo Beach Convention Center and Kealiʻi Reichel at the Hollywood Bowl.
Competitions:
First Place – 2005 Miss Ia 'Oe Ka La (Wahine Soloist Division), Ia 'Oe E Ka La Hula Competition (Pleasanton, CA)
First Place – 2005 Wahine Group Kahiko, 'Auana and Kane/Wahine 'Auana Divisions, Ia ʻOe E Ka La Hula Competition (Pleasanton, CA)
Second Place –2004 Wahine Soloist Division: E Hula Mau Competition (Long Beach, CA)
First Place – 2002 Wahine Group Kahiko and 'Auana Divisions, Kamehameha Day Festival (Honolulu, HI)
Kai is not only an accomplished dancer, from the age of 14 she has been assisting in teaching classes for keiki (children) all the way up through kupuna students.